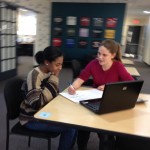 In the Boston office we have 503 high school students that Bottom Line is helping through the college admissions and financial aid processes.  Most of the high school seniors that we work with have packaged their college applications and placed their star on our "I Hit Submit!" wall.  In fact by December 21,492 of our students had completed their applications.  We have switched gears for the most part and are focusing on financial aid (ie the FAFSA and the CSS Profile).
A few of our students, however, are still in the process of applying to college.  In the case of my student, Stefani, the path to putting her star on the "I Hit Submit!" wall was a tough one.  In the fall of her senior year, difficult family circumstances caused Stefani to fall behind in school to the point where she had to postpone the college application process in order to focus on passing her high school classes.  While she would likely graduate from high school, she did not think she could go to college.  She was told by many adults in her life that that perhaps a year or two at community college after high school would be the best path for her. 
Not knowing this, I continued to reach out to Stefani asking her to come back to Bottom Line and to see if she wanted help applying for college.  Sometimes the most important thing I do as a Bottom Line Counselor is provide steady, positive coaching, telling my students that they can do it.
When I sent Stefani an email after winter break to ask her where she was at and when she may want to meet, she was in a completely different place.  She was no longer the overwhelmed student who had given up the dream of attending a four-year college.  She told me that her mindset had completely changed and that, despite the challenging circumstances in her life, she had started to turn things around in school and was no longer in danger of not graduating. 
 Then, she asked me if it was too late for her to apply to college.  While she was literally months behind her peers, we were able to work together and she was able to make many of her colleges February 1st deadlines.  Although her colleges' application process has not followed the traditional route here at Bottom Line, in a few short days Stefani was finally able to put her star on our "I Hit Submit" wall – a testament to her perseverance.
– Kendall Hiedman
Boston Access Counselor