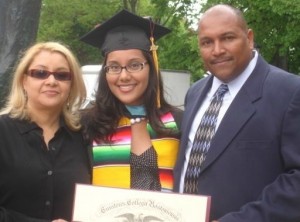 Meet October's alumna spotlight, Noelani Guerrero!
Noelani D. Guerrero is currently a Human Resources Coordinator at Nutter McClennen & Fish, LLP. She received her B.S. in Communications and Human Development from Boston College in 2007. Her goal is to continue working in the Human Resources field as a Generalist and ultimately a Manager. Noelani was born and raised in Boston and enjoys staying involved in community service. She currently serves on the Bottom Line Alumni Board and volunteers with the Hyde Square Task Force College Bound Mentoring Program. At some point, Noelani would like to go back to school and earn a Master's Degree in Human Resources Management.
High School: West Roxbury High School
College: Boston College

Graduation Year: 2007
Job: HR Coordinator Nutter
Bottom Line Memory: Go Far Dinner my senior year of college where I had made a connection with Eastern Bank employees and later got one of my first jobs out of college with them.
If I could send a care package, I'd fill it with: Hand Sanitizer and Chap Stick (can never get enough), healthy snacks, chocolate, pens & pencils (that always manage to get lost), and a quote of encouragement.
Why I stay involved with Bottom Line: The staff and supporters made a huge impact on my college application process and beyond. 
People would be surprised to learn that I used to: Stroll at parties with my sorority sisters….(I still do on occasions!)
The BEST part of being a college graduate is: Not being a student! No more early classes, homework, midterms or finals – although that prepared me for the real world experience, so I'm grateful for it.
The HARDEST part about being a college graduate is: Finding a job that you like, with a company that you like where you can grow and see yourself long term. 
Join me in supporting Bottom Line by…. I supported the Rodman Ride by donating $100 dollars of my own money and fundraising another $500; join me and donate today!