My name is Lili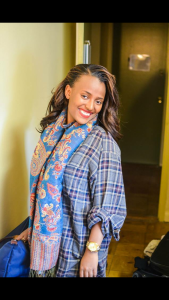 Wondwossen and I graduated from Boston University in 2014 with a degree in Health Science. I am originally from Ethiopia, Africa and moved to Boston when I was eight years old. I currently work at State Street as a Project Analyst in the Corporate Audit Department. I plan to pursue my MBA with a concentration in Healthcare Management and run a hospital or work with an international NGO.
High School: The John D. O'Bryant School of Mathematics and Sciences
College: Boston University
Graduation Year: 2014
Job: Project Analyst at State Street Corporation
Bottom Line memory:  The Bottom Line office was my second home during High school. It is safe to say I was probably there once a week and got familiar with most of the counselors that worked there. I also had fun eating all the jolly ranchers at the front desk.
If I could send a care package, I'd fill it with: Shoes and Clothes coupons (College can be expense), KitKat, and Green Tea
Why I stay involved with Bottom Line:  Bottom Line was and still is such an instrumental part of my life. I could not be where I am today without the continuous support of Bottom Line and its staff. Jackie Robinson once said "A life is not important except in the impact it has on other life." I want to do for others what Bottom Line did for me. They are a gateway to success and it is my honor and privilege to be part of such an extraordinary organization.
People would be surprised to learn that I used to: not know how to speak English. I moved to the states when I was eight years old and could barely formulate a sentence in English. It didn't take long for me to learn but it was something I certainly struggled with.
The BEST part of being a college graduate is: working and saving money. It is also the best time to really figure out who you are by gaining experiences in different professional sectors.
The HARDEST part about being a college graduate is: Having to pay bills and figuring out what to do with your life!
Join me in supporting Bottom Line by: becoming a "Go Far Volunteer." As a volunteer, you can provide the students with mock interviews or informational interviews. Bottom Line students can extremely benefit from your professional experiences and it allows Bottom Line students to feel comfortable and confident during job interviews. Find out more here.