Bottom Line – Chicago's Margy Brill shares her perspective on integrating data into student counseling.
---
When you think about technology in the context of college access and persistence, a new platform or an app may come to mind. At Bottom Line, we see technology as less of a stand-alone solution and more of a tool that facilitates collecting and analyzing data to help low income, first generation students get into college, graduate from college, and go far in life. Harnessing technology to create carefully monitored data-driven outcomes is central to our DEAL curriculum for college persistence. As a result, it was an enormous honor for College Board President David Coleman to announce Bottom Line as the Personalized Learning Award of Excellence recipient at the National College Access Network (NCAN) 20th Anniversary National Conference based on our data-driven DEAL model.
One person beaming from the audience while Bottom Line Chief Operating Officer Greg Johnson accepted the award was Chicago Senior Success Counselor Margy Brill. A two-year Bottom Line veteran, Margy counseled students in Bottom Line's Worcester office before joining the founding Bottom Line – Chicago team. "Our DEAL model isn't rocket science, but it's how we as an organization have held our counselors and staff accountable for measuring and achieving very strong college persistence outcomes with our students," Margy said, reflecting on the significance of NCAN recognizing Bottom Line's approach to ensuring college persistence.
Of course, Bo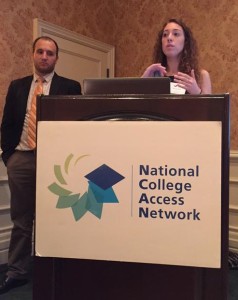 ttom Line's participation in the NCAN conference wasn't limited to the awards ceremony. Margy delivered a presentation called Power In Numbers along with Justin Strasburger, Bottom Line's National Success Program Director. The session focused on using data to make informed decisions and drive results for student success.
"We want organizations to make sure that their programs are actually working, and the best way to do this is to effectively and efficiently measure, collect, and analyze data."
Since joining Bottom Line in July 2013, Margy has used data to determine if students are on track to graduate and go far in a way that provides a high level of organizational accountability. On a day-to-day basis, for Margy that means meeting and talking with students, documenting those interactions, and monitoring outcomes. "Through this process I can ensure that I prioritize contacting students who are facing the most challenges. Using data also helps me be more efficient, which in turn increases my capacity to serve my students better."
After a year of helping low income, first generation college students in Chicago, the Kalamazoo College alumna is proud of the progress that the Chicago team has made. Many of the higher education administrators Margy had initial conversations with a year ago were surprised by how much data Bottom Line counselors track and measure for each individual student. "One specific question I remember getting a lot was how we were able to keep students engaged with our program. Administrators kept wondering what kind of incentives we gave our students, such as a scholarship. When we explained the level of in-person, individualized support we have the capacity to give each student, they were able to see how we're able to help students and maintain strong relationships with them without incentives."
We believe that this intensive, one-on-one approach delivered by our full-time, trained counselors makes all the difference. In Chicago, it already has. Last year, 100% of our inaugural class of high school seniors in the Access program were accepted into college. 97% were accepted to a 4-year college compared to 29% of Chicago Public Schools (CPS) students, according to a report released from the Urban Education Institute at the University of Chicago in December 2014. In the Success program, 96% our first cohort of college freshmen persisted into their second year of college. Nationally, 84% of students in Bottom Line's Success program graduate from college in 6 years or less, which is more than four times the 14% college graduation rate for CPS students.
Bottom Line – Chicago's inaugural 2014-2015 class of over 150 low income, first generation students came from 70 Chicago high schools and 50 different neighborhoods. During our second year in Chicago, we have more than doubled the students served to almost 350 with ambitious plans to serve over 2,500 Chicago students by 2020.