This winter, Bottom Line – NY counselors have already helped 191 of our 300 high school seniors complete nearly 3,000 college applications. As our wall continues to fill up with stars for students who've hit the submit button, we wanted to share one student's story of her college application process below.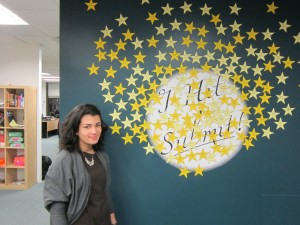 Name: Tiffany Rosario
High School: High School of Arts and Technology
How many colleges did you apply to?  I applied to
nineteen.
What is your first choice and why?
My first choice is NYU. I'm interested in going there because it has so much of what I look for in a college. It's in the City, plus it has good undergrad and graduate programs. I also am interested in the community service opportunities and the emphasis on studying abroad. It's one of my reach schools, though!
When I go to college I want to major in either political science or creative writing. I really like writing and things in the English field. After college, I want to be either a lawyer or maybe even a judge. I know that NYU has a great law school, too.
How did your Bottom Line counselor help you with the college application process?
The process wasn't something that I was expecting. We started off by making a college list, even though I already had my own list in mind. My personal list only had colleges that were really hard to get into. When we made our college list together, I told my Bottom Line counselor, Christine, that I didn't want some of the schools that she listed. She explained to me why she put certain schools on my list and reminded me that it's important to have a balanced list of colleges so I have some options if I don't get into the schools I want.
After that, I started applying to schools. I thought the college application process was going to be harder before I came to Bottom Line, but I really liked how Christine narrowed everything down into deadlines and helped me figure out what I needed to do and when. She reminded me when all of my supplements and applications were due and helped me create to-do lists to make sure that I got everything done on time. If I was the only one looking at the applications, I might have missed some things. I thought I was organized, but Christine is one of the most organized people I know!
What has been the most challenging part of the application process?
I guess the hardest part was coming up with an idea for all of the essays I had to complete for all of the supplements. I have a few things on my resume that I could talk about, so I needed to figure out what to highlight for each school and what to focus on. Also, I felt like my Common App essay had to be perfect because every college was going to see it. I ended up writing three different Common App essays.
What have you learned from the college application process so far?
I learned that you have to be able to put yourself at the table. If you want someone at a college to know who you really are, you need to put as much detail into an application as possible to increase your chances of getting in somewhere since they might not meet you in person.
What do you plan to do this winter and spring to help make sure you are ready for college next fall?
I've already talked with Christine about the need to fill out my financial aid forms and get information from my family to apply for scholarships and to fill out the FAFSA. The earlier you apply for some of these scholarships, the more you get.
What are you most excited about for college?
I'm excited about so many things! I'm excited to meet new people, to get to choose my own classes, to learn more about topics that I didn't get to learn about in high school, and to be independent. I've gone to programs at colleges for 2 or 3 weeks in the summer before, so I know a little bit about what it's like already.