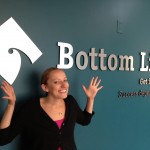 As Bottom Line starts its new school year, we have a larger staff that is larger than ever! Here in Boston we have hired 11 new full-time members of the program staff, allowing us to expand our Success and Career programs while continuing to serve our 500 high school seniors. Bottom Line carried out an intensive 8-week training process this summer to prepare new staff to help our students overcome challenges getting into college, staying on track to graduate, and finding a job upon graduation.
 Throughout this time, new staff got overviews on programs and history specific to Bottom Line as well as background information on student demographics, the high schools and colleges that we work with and much more. New counselors also get trained to meet with their students by watching meetings conducted by experienced counselors, by doing "mock meetings" amongst each other, by conducting their own student meetings with assistance from an experienced counselor and then by holding meetings with their students they felt prepared enough to do so. We call this the "apprenticeship model" and while it takes a long time, it is very thorough.  As a result our staff is fully prepared to help our students overcome any challenges or issues that arise.
 As a busy season full of visiting college campuses, filling out common applications and writing essays kicks into gear, our new staff is enthusiastic and ready to take on all the challenges that come their way! For me, this is the best time of year because I can see all the hard work done over the summer leads to strong results we are able to achieve with our students.
– Miriam Rubin