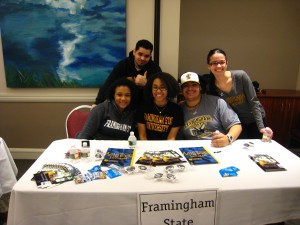 Applications have been sent, financial aid forms have been scrutinized, and now students are starting to see the benefits of the college application process. As Bottom Line Access students learn where they have been accepted to college, they can easily become overwhelmed by the possibilities. In an effort to help students feel confident about their college decisions, Bottom Line hosts an event called the College Expo which brings both high school Access students and college Success students together.
On March 15th, Bottom Line hosted the Second Annual College Expo at Suffolk Law School. This year, 19 colleges from the organization's Success program were represented, and 130 Access students were able to get the scoop on their potential colleges. According to John D. O'Bryant High School senior Tommy Suen, learning more about financial aid from other students was most important.
"I've gotten financial aid letters, but I wanted a more realistic idea of the cost," said Suen.
When it came to the reality of college, Salem State University sophomore Chantel Barrett-Pearson said that her perception of school changed once she arrived on campus. Barrett-Pearson participated in the Salem State University summer bridge program, which is an opportunity for selected students to receive academic support before their freshman year. Last year, about 13 percent of Bottom Line freshman participated in a bridge program, which helped lay their foundation for college.
"When I first learned about the bridge program I didn't want to do it because it was going to take away my summer," said Barrett-Pearson. "But it was a great opportunity because I got to know other people at the college."
This year's College Expo was also open to high school students who are interested in joining both the Access and Success programs. Malden high school students Mandy Cheng and Christine Chu have applied to work with Bottom Line and came to the College Expo to gain a better understanding prospective colleges. Chu said that NYU and BU are her first choice schools, but she came to the event to so she could be open to more colleges.
Recalling the beginning stages of her college search, Clark University senior Bernadine Mavhungu said that she remembered that her expectations of college changed greatly.
"I wish I knew it was okay to not know what I was doing," said Mavhungu. "I thought school was a means to an end. College has far exceeded my expectations, and Clark has helped me figure out what I want."
By Laura Hedges, Bottom Line Access Counselor